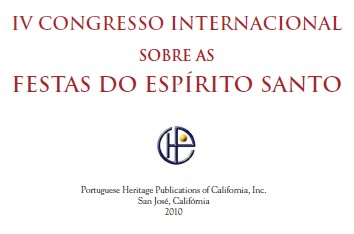 Extracts of the book "IV Congresso Internacional Sobre as Festas do Espirito Santo" are attached (click picture).
The extracts include the work on "The Holy Ghost Discovers Florida", a list of all the works by other participants, including the work by Pedro Folgado on "Alenquer, "Terra do Espírito Santo"". Browsing the index you will see representation from multiple global Portuguese communities where the Espírito Santo is celebrated, and numerous communities in the United States, with greater concentration in the Northeast and in California.
"The Holy Ghost discovers Florida" work begins with a brief description of the geography of Florida and the demographics of the Portuguese communities holding these Feasts. Such background information was helpful for non-Floridians to contextualize the events. The work elaborates on the Feasts in each community, with focus on the sponsoring community, P.A.S.A.